If you knew me in High School, you would remember, "Church of Dirt" on my green Jansport backpack. That dirt referred to our trails that I cherish so much, and that church was as follows, the Sacramento River Trail the gateway to the west side of Redding and glorious Whiskeytown, French Gulch, Lewiston, and pretty much endless cycling, running hiking and backpacking adventure on the trails past that.
I have to especially thank first of all my Father for introducing me to Mountain Biking & Backpacking, and my Mother for having the nerves to jet let me go, without anyone. I did, however, get introduced and fully guided around Redding's backyard playground by some of Redding's OG Mountian Biking Community like John Stein, the Reise Brothers, Eric Teel, Mike Simpson, the Dodds, Andy Friesen, Kevin Clair and for that I am ever thankful. Being guided was cool, but I especially liked getting lost a bit and discovering something new, this area has so much of that, for a lot of us it is a religion, so in short, it is like watching our church burn down.
Watching the Carr Fire has been incredibly hard, a whole bunch of that gateway to adventure has been burnt down, bridges lost, vegetation gone, the tiny bit of good news is dirt doesn't burn, but worst news is, the rains are around the corner. If Santa Barbara (I lived there for ten years) has taught me anything, it is that the worst part about a massive fire like the Carr Fire isn't the initial fire, it is the erosion that happens afterward.
Redding will rebuild its homes & business, and vegetation will come back incredibly green and lush over time, but the amount of time that has been put into the trail system over the years also needs to be protected. The time is incredibly limited to prevent or at least manage to the best of our ability the coming further damage to our Church of Dirt.
Redding needs its trail system; it was just starting to pick up steam and become recognized as a destination for cycling thanks in a big part to the years of hard work by Brian Sindt from the McConnell Foundation and most recently a Ride Redding incubation The Redding Trail Alliance. The Redding Trail Alliance has been diversifying Redding's trail landscape, cause hey, we don't all like to ride the same stuff or get bored of riding the same kind of trail. There is a ton more to Redding trail history PBS (Pre Brian Sindt), and maybe I know someone who wants to write about that soon.
I know there is a ton to recover from, but the faster and harder we hit this erosion management the far better our communities years of trail building investment will be protected.
My favorite trail is Twister by Kevin C. Whats yours, do you know who built it?
A look at Ten Bridges Trail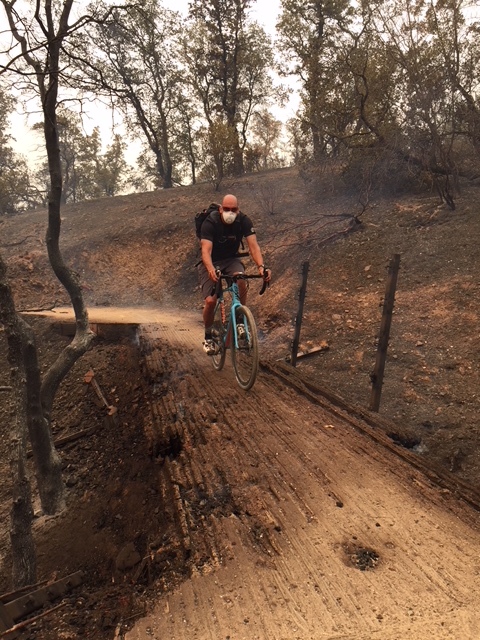 Photos by Jonz Norine & Todd Dodds